Wyndham Quin
LENNANE
1909 - 1944
aka
Wyndham Q. Lennane, W. Q. Lennane, Wyndham Lennane, W. Lennane
nationality
occupation
birth
.. Oct/Nov/Dec 1909, ..........., St Pancras, London
baptism
death
15 Dec 1944, Labuan, Borneo, INDONESIA (taken POW Singapore/Straits Settlements)
burial
marriage
married in Singapore Cathedral, Singapore to:
Anne-Marie ("Annette") GUISTI


b. 7 Aug 1912, ........ , .........
d. .. July/Aug/Sep 1974, Hendon, Middlesex, ENGLAND

children

Anthony P. ("Tony")


b. .. Nov 1939, Singapore
LIVING
PARENTS
father
Herbert William LENNANE


b. .... 1880, Clare, IRELAND
d. 4 Sep 1921, Eastbourne, Sussex, ENGLAND

mother
Alice Ella TRICKETT


b. .. Jan/Feb/Mar 1883, Barton Regis, Gloucestershire
d. 20 Mar 1937, Edmonton, Middlesex, ENGLAND

marriage
got married in .. Jan/Feb/Mar 1909, Mutford, Norfolk/Suffolk
children

Wyndham Quin


b. .. Oct/Nov/Dec 1909, St Pancras, London, ENGLAND
d. 15 Dec 1944, Labuan, Borneo, INDONESIA (Singapore/Straits Settlements

Henrietta Anne Dora Josephine ("Sue")


b. 17 Oct 1912
d. 16 Jan 2003, East Surrey, Surrey, ENGLAND (90y)

Patrick Arthur


b. 30 Apr 1915, .............
d. 2 Oct 1949, ...........

James


b. .. July/Aug/Sep 1916, Eastbourne, Sussex, Isle of Wight
d. 11 March 1945, .............

Catherine


b. .... ?1917, .......
d. .... 1918, ...........
LIFE
North Finchley, Middlesex, UK

Recorded Ustad Amir Khan in 1934 in Bombay
Recorded for HMV in 1935 at Dum Dum: OMG 1417-1420 / 1519-1522 / 1814-1816


I thought you might be interested to know that my late father was a recording engineer with EMI, then known as the Gramophone Company. He made records all over the world with for the COLUMBIA label. Near the end of his career and his life he was posted to Singapore recording local talent. I was born in Singapore in Nov. 1939 and we lived there until the Japanese invasion. My mother and I managed to leave by ship to return to the UK but my dad remained, joining the local volunteer force in a vain effort to save Singapore from the Japs. He was captured and sent to a POW camp and was murdered while building the Burma railway. EMI does not have a list of his recordings but we do know that among many others he was in charge of the recording of the song; "Rose, Rose I love you" by Miss HUE LEE on Columbia DB2837, it was not released until the 1950's when it became a big hit. Just thought yo might be interested in that story.


NOTES
PHOTOS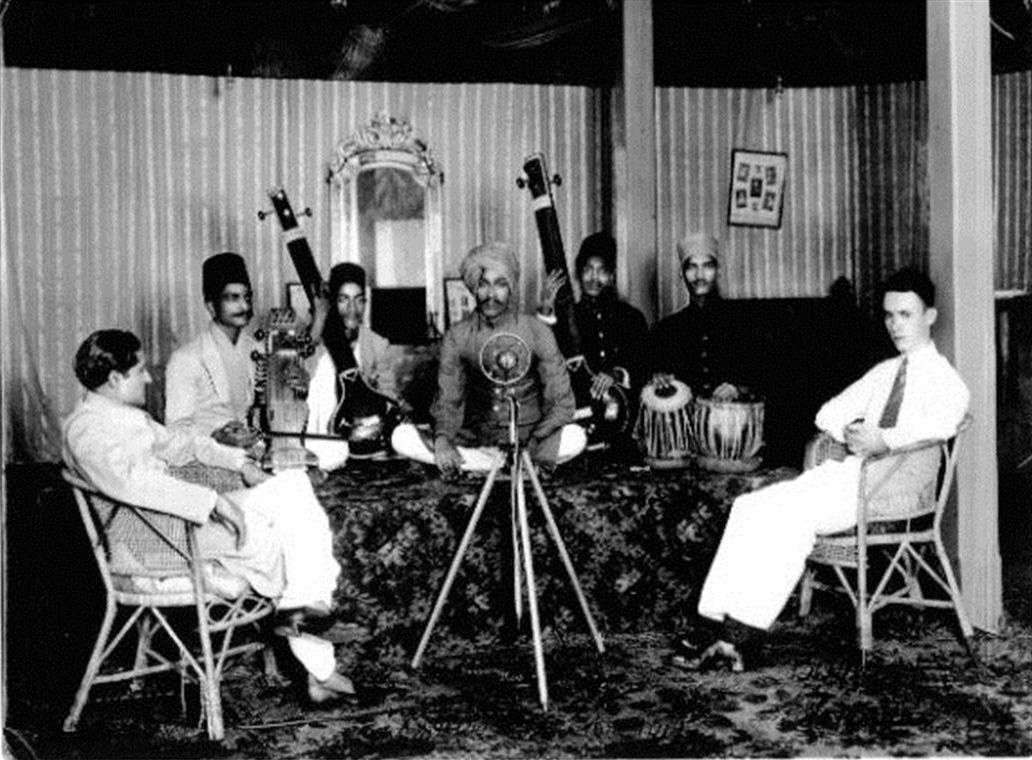 Wyndham Q. Lennane (right) during Columbia recording session with singer Ustad Amir Khan (Bombay, 1934)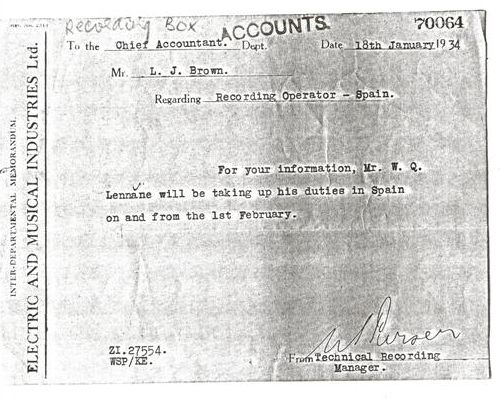 Memo Spain 18 Jan 34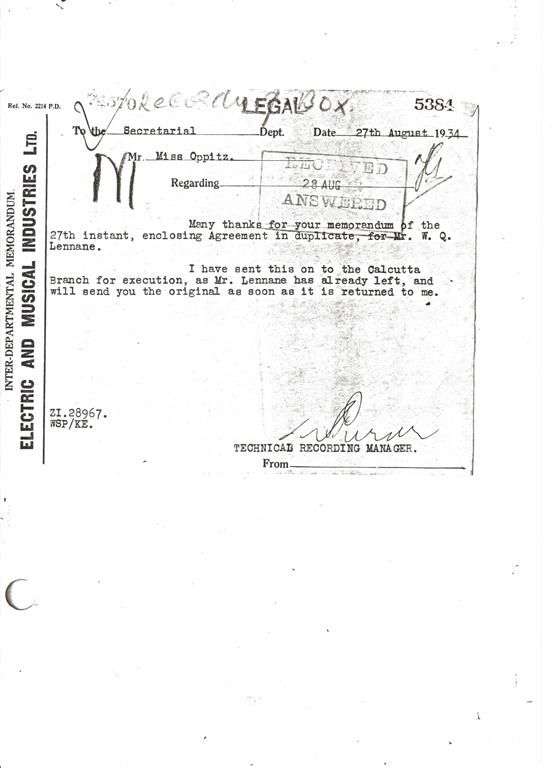 EMI memo 27 Aug 34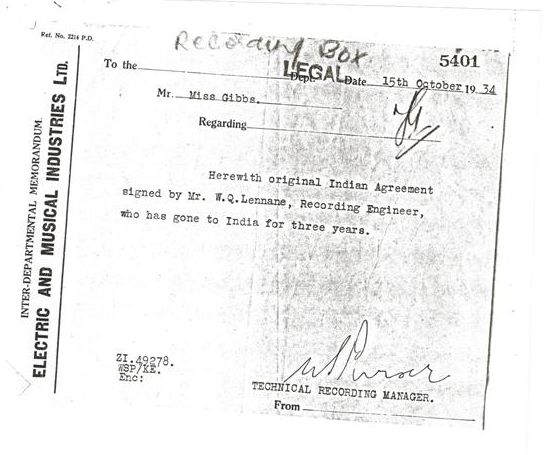 EMI memo 15 Oct 34
THANK YOU

Anthony ("Tony") Lennane
Peter Adamson

---
---